Throughout 2021, Mies van der Rohe's McCormick House (1952) will feature various works from the Museum's permanent collection. We will highlight these works and their artists throughout the year. The installation throughout December, January, and February will feature artists Richard Koppe, Nancy Mladenoff, Amy Park, Angelo Testa, Frank Trankina, and Glenn Wexler.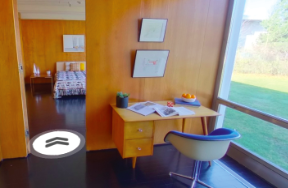 360-degree virtual tour of the exhibition
Thank you to the DuPage Convention and Visitors Bureau and Threshold360 for making this possible.
Despite being closed due to COVID-19, we still decorated the home for the holidays. Enjoy this video tour of the home:
Learn more about the McCormick House:
History of the McCormick House
Stories about Living in the McCormick House
Mies, McCormick & Prefab
Installation images can be viewed here and below.
If you enjoyed this content, please consider supporting the museum through a membership purchase, an Art-ivity pack to do at home, or donating to help our critical operating costs. Your support directly impacts our vital efforts to enrich generations and build a stronger community.